TITAN Heavy Duty Tipping Skip Range
Our range of TITAN Tipping Skips are heavy duty and designed to withstand the abuse that forklift handling can give in the workplace. The tipping skip subrame framework is from chunky box section and the sheet steel skip sides and base from 3mm thick sheet steel, with an option of 5mm steel thick skip walls. The Tipping Skip range has 6 different skip bin sizes and a range of options.
The heavy duty tipping skips, also known as tilt bins are often used for collecting and moving waste, whether cardboard and general waste or something more specific to suit your own application. The tipping skip can be fitted with a grib at the bottom to filter swarf and a drain tap to drain off cutting fluid from the swarf. The tipping skip bin can be placed locally to the area to be cleared and left there until full. Once the skip bin is full and needs emptying, the tipping skip can be moved by forktruck to the main skip for emptying of the bin contents. The skip bin can be raised above the main skip and emptied by simply pulling the bin release lever with a cord or chain, tipping the contents into the skip. To close the tipping bin, simply lower the bin onto the top lip of the skip and it will lock back into place. Please see the how to use video below.
The tipping Skips have a range of optional extras. Wheels and castors can be fitted so the tipping skip is mobile and easy to push. Sheet steel lids are an option to protect cardboard and rubbish from wind or for what ever other reason you want.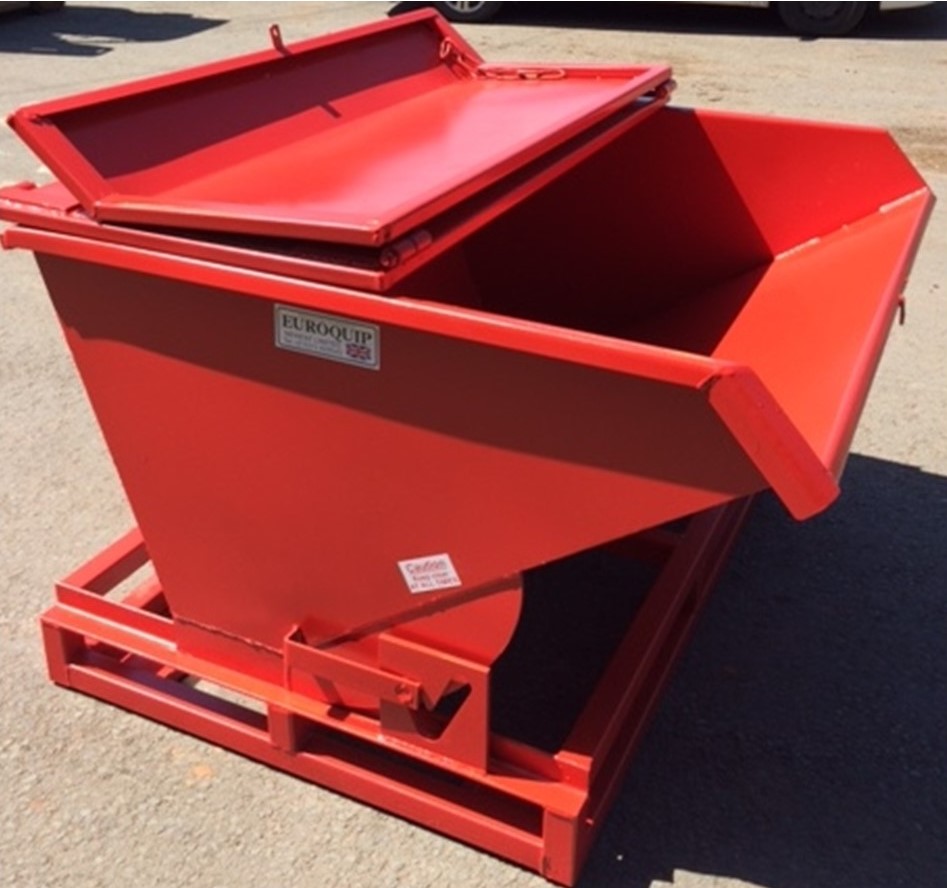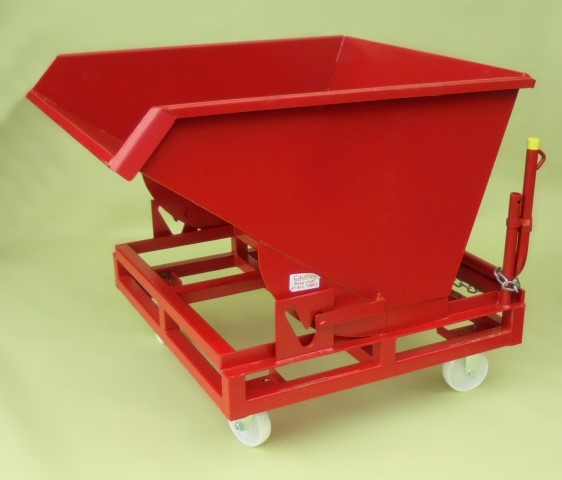 The heavy duty tipping skips are painted in 2 coats of paint and available in a choice of 4 colours or alternatively, the TITAN tipping skips bins can be fully hot dipped galvanised. All the tilting skips come with a safety chains to secure the skip bin to the forklift mast and are CE marked.