Drop Bottom Skips 2 Door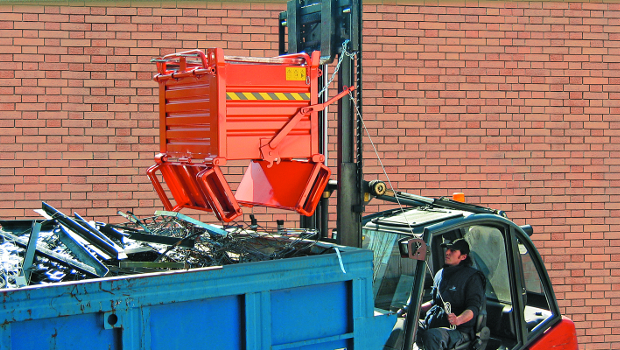 This range of stackable skips features a double door bottom opening base which facilitates the simple and safe automatic emptying just by pulling a lever without the need to ever leave the forklift truck. Models are available in both mesh and sheet steel.
Ideal for all types of business this version with dual doors has a maximum standard opening aperture of 440mm. We also supply a range of bottom opening skips with 1 door that open fully.
The skips come in a range of standard RAL colours so that they can be colour coded for specific waste types if required, you can select the colour from within the options. Alternatively a galvanised finish is available.
All skips come with CE marking plate as standard.
Delivery is FREE to mainland UK, excluding Northern Ireland, Scottish Highlands and Islands. Please call for a delivery price to these regions. Prices do not include VAT. Products not in stock have a 4-6 week lead time.

Galvanized Finish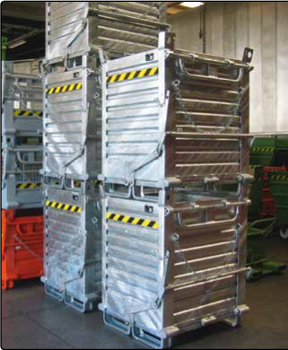 In addition to our standard colours our dumping containers can also be supplied with a galvanised finish to prevent rusting.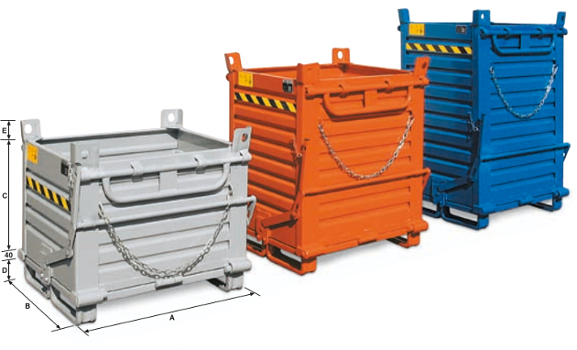 Drop Bottom Opening Skip Buy Online Now
Product
Skip Dimensions in mm
Capacity
Volume ≅
A
B
C
D
E
SL064 H650 SHEET
1000
800
650
110
110
2000 kg
460 L
0.46 m³
0.6 yd³
SL064 H650 MESH
SL064 H650 SHEET GALVANIZED
SL064 H650 MESH GALVANIZED
SL064 H1000 SHEET
1000
800
1000
110
110
2000 kg
715 L
0.715 m³
0.935 yd³
SL064 H1000 MESH
SL064 H1000 SHEET GALVANIZED
SL064 H1000 MESH GALVANIZED
SL064 H1300 SHEET
1000
800
1300
110
110
2000 kg
930 L
0.933 m³
1.22 yd³
SL064 H1300 MESH
SL064 H1300 SHEET GALVANIZED
SL064 H1300 MESH GALVANIZED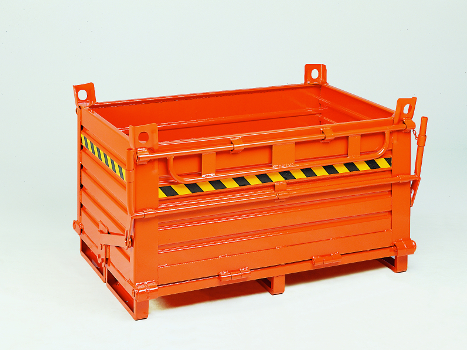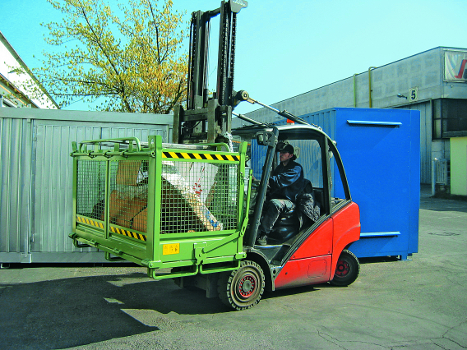 Open Bottom Skip Buy Online Now
Product
Skip Dimensions in mm
Capacity
Volume
A
B
C
D
E
SL153A H650 SHEET
1500
1000
650
110
110
2000kg
880 L
0.88 m³
1.154 yd³
SL153A H650 MESH
SL153A H650 SHEET GALVANIZED
SL153A H650 MESH GALVANIZED
SL153B H1000 SHEET
2000
1000
1000
110
110
2000kg
1840 L
1.84 m³
2.411 yd³
SL153B H1000 MESH
SL153B H1000 SHEET GALVANIZED
SL153B H1000 MESH GALVANIZED
Contact us for more information
Product
Code
Price

SL064 H650 SHEET

Z/STIL/SL064H650/LV

£ 470.00

each

Choose options

SL064 H650 MESH

Z/STIL/SL064H650RV

£ 507.00

each

Choose options

SL064 H650 SHEET GALVANIZED

Z/STIL/SL064H650LZ

£ 727.00

each

SL064 H650 MESH GALVANIZED

Z/STIL/SL064H650RZ

£ 820.00

each

SL064 H1000 SHEET

Z/STIL/SL064H1000/LV

£ 564.00

each

Choose options

SL064 H1000 MESH

Z/STIL/SL064H1000/RV

£ 616.00

each

Choose options

SL064 H1000 SHEET GALVANIZED

Z/STIL/SL064H1000/LZ

£ 891.00

each

SL064 H1000 MESH GALVANIZED

Z/STIL/SL064H1000/RZ

£ 997.00

each

SL064 H1300 SHEET

Z/STIL/SL064H1300/LV

£ 611.00

each

Choose options

SL064 H1300 MESH

Z/STIL/SL064H1300/RV

£ 677.00

each

Choose options

SL064 H1300 SHEET GALVANIZED

Z/STIL/SL064H1300/LZ

£ 1,006.00

each

SL064 H1300 MESH GALVANIZED

Z/STIL/SL064H1300/RZ

£ 1,126.00

each