Low Height Forklift Tipping Skips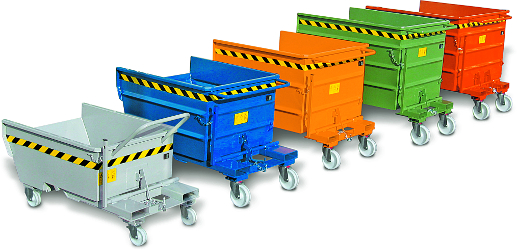 Our range of low height tipping skips can be used to collect and dispose of waste and scrap in the workplace. The tipping skips are all on wheels so are easy to move around. Whenthe tipping skip need emptying, it can be raised up by forklift, pull the levera nd the skip tilts forward tipping the contents into the skip below. The skip of the tipping skip is fully watertight. Options include a galvanized finish and lids.Please contact us for a galvanized finish.
Delivery is FREE to mainland UK, excluding Northern Ireland, Scottish Highlands and Islands. Please call for a delivery price to these regions. Prices do not include VAT. Products not in stock have a 4 week lead time.
Optional Hydraulic Cylinder
On a request we can supply an independant hydraulic cylinder with built in compensator for gradually tipping the dumping container. It is also a noise reducer during opening.
For our larger tipping skips we recommend the fitting of an hydraulic cylinder for better balance during the tipping phase.
Note that the installation of the cylinders does not result in an increase in the skip size as they are installed inside the dumper.
Galvanized Finish
In addition to our standard colours our dumping containers can also be supplied with a galvanised finish to prevent rusting.
Lids for Tipping Skips
Contact us regarding optional lids or covers for the tipping skips designed to protect your goods.
We can supply a removable sheet metal lid with 2 handles or alternatively a hinged cover that allows you to unload without removing the cover.
Setting Tanks for Skips
We can supply on request setting tanks with grids of 4mm holes together with a ball valve which can be used to seperate liquid and solid substances.
Brake System
An optional brake system can be attached to the wheels ensuring better stability in the work position.
Please contact us for further details on this item.
Contact us for more information